The Top 7 TV Shows For Kids That Teach Good Things On Netflix
There are those moments in parenthood, when you just need the kids to sit still and be quiet. But we all know kids won't just sit and be quiet without a little help. This is when I call upon my most favorite baby-sitter.

Thank you, Netflix.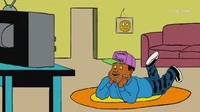 I want to provide you with a list of our top 7 favorite TV shows for kids, that teach good things – all to be found on instant streaming through Netflix via TIDBITS.
1.  SUPER WHY

Kids with super powers teaching my kids super skills. This PBS show does a surprisingly good job at introducing my kids to the alphabet and reading. Along with teaching the alphabet, I love how it shares classic storybook stories and values. Wonderful educational flick for the kids.
2. SIGNING TIME

They are very entertaining and the kids are actively engaged during the whole episode. Of course, there are the numerous benefits to learning a different language and exposing our children to the variety of people in the world around them.

3. VEGGIETALES

This is a show for the whole family! This talking vegetable show is quite humorous, but that is not even the best thing about it. Pick any wonderful value you want to teach your children (slow to anger, honesty, loyalty, etc.), and there is sure to be an episode to suit your needs. They are mostly based on scripture stories found in the Bible.

4. RUFF RUFF MAN

Your kids are exposed to places, careers, sights and many other things that they would never get to see otherwise. Even though it is a show filled with pre-teens (and a talking dog), they are never inappropriate, and express a love for learning and discovery. 

5. SESAME STREET

I think we are all aware of all the goodness those furry monsters share with our kids, and it is great to have it all available to us on our time. Whether they love it or not, they all seem to have their eyes and brains fixed on the screen.

6. MAGIC SCHOOL BUS

Yes, the same one you watched as a kid. It's an oldie, but goodie – and I was thrilled to introduce it to my kids when I saw it on Netflix.  And now your kids can talk about it all the time. Sweet nostalgia.

7. JUSTIN TIME

It involves 3 loyal friends and their trips to the past, exploring places, culture, and landmarks – all while learning valuable life behavior skills. Its fun and educational, but not annoyingly so like other preschool movies (cough . . . Dora . . . cough).
Comment below with additional recommendations for kids to watch on Netflix👇
Source:
THE TOP 10 TV SHOWS FOR KIDS THAT TEACH GOOD THINGS ON NETFLIX